Drink at these Seattle bars this Winter.

Welcome to Winter, Seattle! Despite the change in temperature and the color of the leaves, Seattle is alive and well with activities and events. For all the culture and adventure Seattle has to offer, this city's favorite pastime is still enjoying a cocktail. We put our guides to the test, putting together our favorite Seattle bars to visit for that perfect sip.
San Patricio Cantina
A Pike Place Market favorite, this Irish-inspired Mexican cantina has everything one needs: Great food, strong drinks and Happy Hour from 4pm-7pm, everyday. Bring you date here for a drink before you head to your show or concert.
Zig-Zag Cafe 
A Seattle institution, the Zig-Zag Cafe is tucked away on the Pike Place Hillclimb, just steps away from the historic Pike Place Market. Seattle local legends such as bartender Murray Stenson had shaken and stirred at this bar, and is a major part of Seattle's revival of the cocktail. Stick to the classics or ask the bartender to choose one of their awesome signature cocktails to sip and savor. (Photo via Instagram)
Branchwater
If rye and bourbon whiskey is your thing, then Branchwater is not a bar to be missed. Hidden away in the back of a paid parking lot on Third Ave in Belltown, in the daytime it can be seen from afar for its deep blue exterior. Enter through the parking lot, and you'll find yourself in a hidden gem of the city. Show off your fine taste in libations for those visiting college pals. (Photo via Instagram)
The Nest
The Nest is a rooftop bar located at the top of the Thompson Hotel in downtown Seattle. Come for the fine handcrafted cocktails and stay for the breathtaking views of Elliot Bay. The design is modern and chic, making you feel like you're on top of the world with each sip. Get here early, as the space, including its outdoor patio seating, fills quickly on a sunny Seattle afternoon.
Jupiter Bar
Looking for a bar-cade? Find pinball and other classic arcade games in the back of this Belltown bar. Dark but far from quiet, its charming artwork depicts beautiful murals and portraits of celebrities such as Marilyn Monroe and Mohammed Ali with tattoo sleeves. This is the type of bar where a beer and a shot won't break your bank, and memories begin to fade as the night goes on. (Photo via Yelp)
Seattle Wine Passport
So a tasting room isn't a bar – we know- but when your state is the number two producer of wine in the country, you got to love and drink the wine! The Seattle Wine Passport is the best way to taste your way through Washington Wine. Pick 10 tasting from a list of over 25 of the best local wineries in the Northwest, plus $50.00 in Lyft Ride Credits, all for just $59.99. Download the Savor Seattle app to get started.
The Diller Room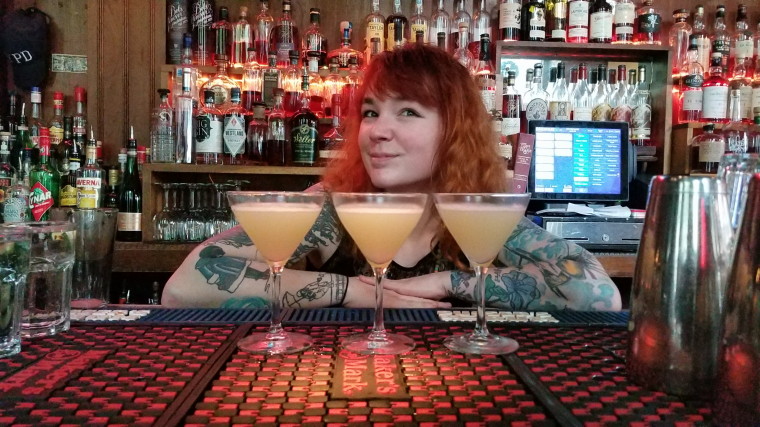 A downtown Seattle staple, next door to the Seattle Art Museum, The Diller Room is a working persons bar. Built in the historic Diller Hotel, it is known to have been home to one of the first speakeasies in the city. On Tuesdays, top bartender Justin features his special Tiki menu, featuring Tiki cocktails that are all about fun drinking vessels, high proof spirits, and lots of fire and spectacle. Drop in after work for that well-earned post workday drink.
Rachel's Ginger Beer
SEATTLE LOVES RACHEL'S GINGER BEER! Nothing like a Moscow Mule on a warm Summer day! Made even more delicious and noteworthy when it's mixed with all natural, made-in-Seattle ginger beer. Want to up the ante? Go with a boozy float: Your favorite ginger beer flavor + soft serve ice cream + Rum or Whiskey!
Liberty Bar
Sushi + cocktails? Yes please, and that is exactly what you'll get from this Capitol Hill establishment. Order one of their own signature cocktails on their extensive drink list, and pair that with one of their excellent sushi rolls.
Smith Tower Observatory Bar
If you want to continue your discovery of Seattle history with sin and vice, look no further than the Smith Tower. Once the tallest building this side of the Mississippi River, guests can walk through an interactive exhibit as they make their way to the observatory deck, detailing the lives of the flapper and shakers that influenced Seattle in the 20's and 30's, such as rum and whiskey runner Roy Olmstead. Once at the top, take in breath taking views of Pioneer Square and the Downtown corridor, then make your way to the bar for a cocktail and cheers to Seattle's History!