The time to eat oysters in Seattle is NOW.
Harvesting oysters along the waters of the Pacific Northwest has been practiced for hundreds of years, and a line can be drawn connecting oyster beds to the start of human civilizations and indigenous groups. In North America alone, one can find over 150 types of oysters. As the cooler months of Winter are here, the best oysters are being cultivated and brought to market. Want the best Oysters in town, but also don't want to break the bank? Read on for our best recommendations for oysters in Seattle!
1.
Taylor Shellfish Farms 
Find Taylor Shellfish bars in Pioneer Square, Queen Anne, and Capitol Hill! 
Taylor Shellfish Has multiple oyster bars in the Seattle area, including Capitol Hill, Pioneer Square and Queen Anne. Here, oysters and other shellfish are on display to customers, whereas you can ask questions and literally see which shellfish you will be eating right before it is shucked and prepared for you in minutes. Taylor Shellfish Farms is a premier shellfish provider in the Pacific Northwest and in North America, and it isn't uncommon to find top Seattle restaurants providing oysters from them. At the Melrose Market location on Capitol Hill, Happy Hour is Monday through Friday from 2PM – 4PM, with a daily featured oyster at $1.75 each.
2.
Local 360

These Pacific Oysters were sourced within 360 miles of the restaurant.
Local 360, just minutes from Pike Place Market in the Belltown neighborhood, celebrates the bounty of the Pacific Northwest. Sustainability is celebrated at this restaurant, where Chef Scott Emerick sources ingredients from within 360 miles of the restaurant. Happy Hour is from 3PM – 6PM and oysters are $1 each, meaning more Pacific oysters for you.
3.
Tankard & Tun
Tankard & Tun brings beer and seafood together. PC: Yelp
Tankard & Tun is the seafood & beer concept inspired by the Charles & Rose Ann Finkel, owners of the famous Pike Brewing Company. This restaurant opened just last Summer, and is located directly above the Pike Pub. The "Hoppy Hour" here is incredible, with $2 oysters every day from 3PM – 6PM and at night from 9PM – close. They also have some great seafood dishes, such as fish n' chips, steamed mussels, and their version of Fillet-o-Fish, all priced at $10.
4.
Emmett Watson's Oyster House
The restaurant patio is the perfect place to enjoy a dozen or so oysters on a nice day. PC: Yelp
Emmett Watson's Oyster House is special to the city of Seattle. Why, you ask? Because it was literally the first oyster bar of its kind in the city, established 1978. Started by Newspaperman Emmett Watson and his friend Sam Bryant, this no-frills oyster bar opened for business in the heart of Pike Place Market. The décor most likely hasn't changed since it opened, and the menu is hand written on brown paper bags, which gives the place a charm unseen in today's tech-savvy, industrial-chic Seattle restaurants. But the Oysters are fresh, and the servers can tell you exactly where the different varieties come from.
5.
White Swan Public House
$1 oysters all day on Tuesdays through the month of March! PC: Yelp
Located just off the shores of South Lake Union, White Swan Public House is a rustic seafood driven waterfront restaurant. One can expect great service and high quality food at White Swan, more notable due to the reputation of their sister restaurants, Radiator Whisky and Matt's in the Market, the latter we written up as one of the best Pike Place Market restaurants to eat at. The Happy Hour here is from 3PM -6PM Monday through Saturday, with oysters from $1 – $1.75 each, and a special "Shells & Champagne" deal for two dozen oysters and a bottle of French bubbles for $65, not a bad deal considering the average price for oysters in Seattle is roughly three dollars. Better yet, through the month of March, Oysters are $1 all night every Tuesday, making Tuesdays in Seattle #OysterNight.
6.
Betty
Don't miss this gem in the hot spot of Upper Queen Anne Hill. PC: Yelp
This lovely gem truly celebrates and encompasses the charm of the Queen Anne Hill neighborhood. Betty has an intimate dinning room and small lounge next to the bar, perfect for a night out with a loved one or a group of friends. The Kitchen is open as well with a Chef's Counter, and the smells and sounds of culinary creation just beckon hungry diners to order more than desired. Oysters are $2 each during Happy Hour from 4:30 – 5:45PM every day. Also, $5 draft beers and $7 wines by the glass, so really what's not to love?
7.
Pike Place Fish Co.


Meet Anders at the Pike Place Fish Co. Stall! 
OK, this one isn't an oyster bar nor a happy hour, so why talk about Pike Place Fish? Because if you want sustainable, ethically sourced shellfish, there is no better place to buy them. Pike Place Fish Co. has long made a conscious effort to procure the best seafood by the best means possible – meaning no scraping the bottom of the ocean or using giant nets to catch salmon, and also buying shellfish like oysters and clams from reputable sustainable shellfish farms from around the Puget Sound region. Buying a dozen oysters fully intact can be a much better price than compared to the half-shell at an oyster bar. Don't have a oyster shucker? No problem, the fishmongers have them for sale, and would be happy to show you the proper way to shuck an oyster, like in the video above. Visiting these guys are one of our favorite things to do in Pike Place Market.
8.
Bar Harbor
Why go to the East Coast when you can visit Bar Harbor in Seattle? PC; Yelp
Bar Harbor is named after the famous East Coast seaside town, and the restaurant brings East Coast flare and flavors to the Pacific Northwest. Here you will find a diverse oyster selection, with a few sourced directly from the East Coast. Our recommendation: ask for an oyster flight with half Pacific oysters and half Atlantic oysters. You just might notice a difference in tasting notes. Happy Hour is from 3 – 6 Monday thru Friday!
9.
Frank's Oyster House & Champagne Parlor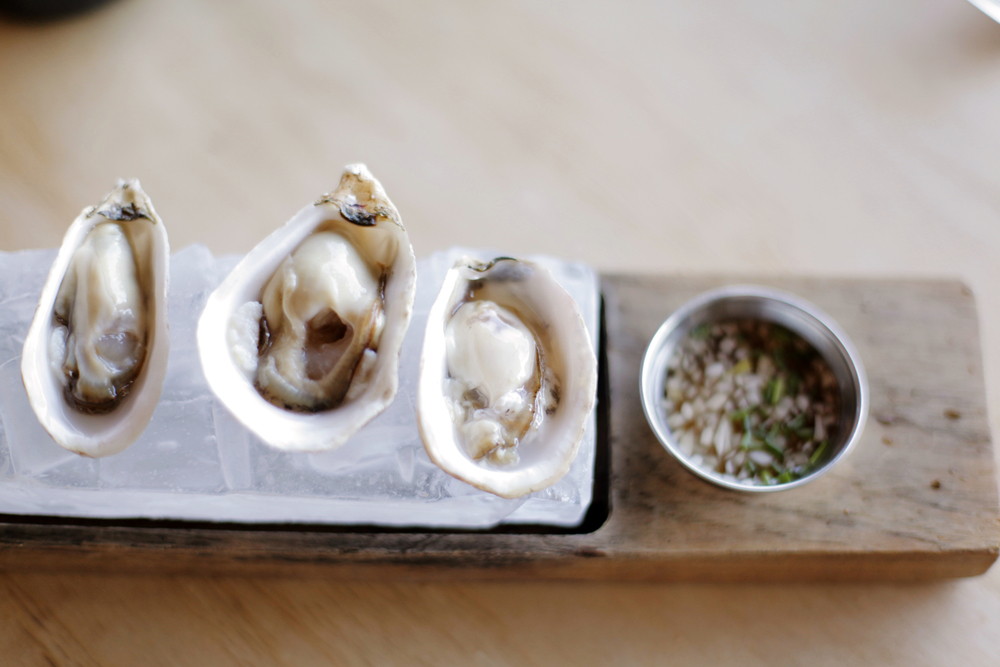 Bring out your camera phones, this oyster bar is totally Instagram worthy. PC: Yelp
Frank's Oyster House & Champagne Parlor is a little bit of a hidden gem in the Ravenna Neighborhood, just north of the University of Washington. The interior has a rustic look using reclaimed wood furnishings, with a touch of modern flare. The restaurant was inspired by co-owner Sarah Penn's adventures dining in Boston eateries with her grandfather, Frank. Oysters and champagne are classic companions, and at Frank's it is celebrated in its entirety. We recommend Brunch to get your oyster fix, where oysters are $2.50 each with a choice of mignonette or Bloody Mary granita.
10.
Elliot's Oyster House
The oyster bar display at Elliot's is one of the best in the city.  PC: Yelp
Located on Pier 56 on the Seattle Waterfront, Elliot's Oyster House has one of the largest selections of oysters to choose from in the city. They are known for their progressive Oyster Happy Hour, available Monday through Friday. Oysters start at $.150 each at 3PM, and go up $.50 each hour till 6PM. A visit to Elliot's is perfect for those wanting to try the various oyster types in the Pacific Northwest.
11.
Westward
Look for someone shucking onsite – a good sign that the oysters are fresh! PC; Yelp
Westward has long been known as a fresh oyster haven for Seattleites. Located on the water with its own dock, during the warmer seasons, the patio has a great view towards Lake Union and the boats tied nearby. With a wide selection of oysters on hand, they are even known for producing oyster shucking classes for guests looking for a more intimate culinary experience.
12.
Seatown Seabar
Anthony Bourdain visited Seatown, and was featured in his Seattle episode of "The Layover". PC: Yelp
Just a block from the Pike Place Market, this Tom Douglas Restaurant is known for its fresh selection of oysters and seafood. Happy hour here is 3PM – 6PM daily at the bar, and shucker's choice oysters are $2.25 each.
13.
Walrus & The Carpenter
Acidity from a lemon or mignonette helps bring out the flavor and compliments the saltiness of a oyster. PC: Yelp
Walrus & The Carpenter is one of the most well-regarded seafood restaurants in Seattle. Run by Chef Renee Erickson, this restaurant is keeping it fresh, with the menu changing daily in order to take advantage of the very best of what is available. Oyster Happy Hour is from 4pm – 6PM Monday through Thursday and is walk-in only. This means, be ready to arrive early or prepare for a wait!
14.
Shuckers Oyster Bar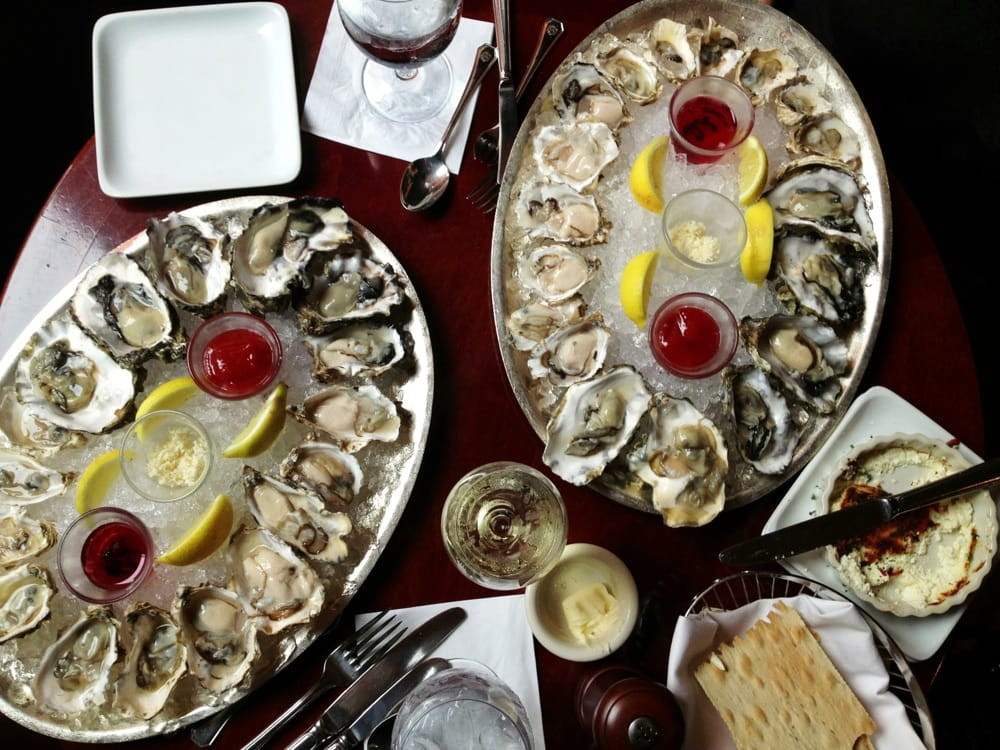 Shuckers provides a variety of local oysters to choose from. PC: Yelp
Built inside the Fairmont Olympic Hotel, Shuckers Oyster Bar has been long known as a place for pristine shellfish and cocktails. The space, once a haberdashery in the 1930s, still has the original carved oak paneling and tin ceiling from those days in the past. The bar has a fresh oyster board that changes daily, and happy hour is from 3PM – 5PM Monday through Friday.
 15.
The Brooklyn
Fresh oysters should be smooth, plump and cream in color. PC: Yelp
Built in the historic Brooklyn building in downtown Seattle, The Brooklyn is just minutes away from any major downtown Seattle hotel and across the street from Benaroya Symphony Hall. The restaurant takes an approach that blends the old with the new: Old school hospitality and big cozy booths, but with a commitment to serving locally sourced produce, northwest raised meats and fresh seafood. Oyster Happy Hour her is daily from 4PM -6PM with $2 oysters on the half shell. This is the perfect spot for a business meeting, or for a formal night out before a performance or show.