It's no secret that Seattle has a love affair with coffee. With 2.5 coffee shops for every 1,000 citizens, Seattle has the greatest concentration of coffee houses in the country. This warm, intoxicating happiness elixir is our greatest weapon against Seattle's gray skies and infamous wet weather.
In a city with over 1,200 coffee shops and counting, it takes some serious chops to jump into the ring. One of the city's up-and-coming coffee purveyors, Storyville Coffee Company, opened its doors in October 2013. Eager to learn more about the challenges they faced and how they distinguish themselves, we interviewed Storyville's Co-President Jamie Munson and their head baker, Anna Joe Pedersen, to get the story behind Storyville.
Critical to the success of any retail business is location, location, location! As America's largest fresh pantry, it comes to no surprise that Pike Place Market would make for a natural choice for their flagship store. It's the beating heart of our city's culinary scene. Steeped (or brewed) in coffee history and community, the Pike Place Market can be very intimidating for any new business hoping to stand out, let alone another coffee shop. To put it simply, they were the "new kid on the block."
The Pike Place Market birthed the nation's coffee culture with the opening of the first Starbucks store in 1971, followed by the first Seattle's Best Coffee store in 1984. In addition to these coffee giants, Pike Place Market today is also home to four smaller coffee shops (not including other businesses that serve coffee), all housed within a three block radius. In the shadow of such stiff competition, Storyville had to deliver beyond the basics of product excellence, great atmosphere, and outstanding customer service.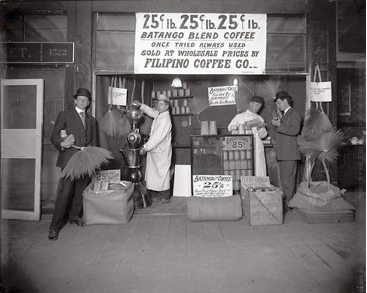 Pike Place Market's first coffee store: Filipino Coffee Co, circa 1909
"The goal has always been to create and build the ultimate coffee shop experience, to truly red-line on excellence, and set our standards high." says Co-President, Jamie Munson. Not happy with just par for the course, Storyville is out to prove that they can play with the big boys. Storyville has focused on fostering partnerships with other local businesses as well. This includes donating all unsold baked goods to the Pike Place Market Food Bank, sourcing produce from Frank's Produce, cheese from Beecher's Handmade Cheese and partnering with Savor Seattle. Munson says, "We want to be good neighbors and uphold the tradition of delivering fresh food and fresh taste, while also living up to the standard of Pike Place Market. Meeting these standards is not only a tradition of Pike Place Market, but also of Seattle."
In addition to Storyville's commitment to supporting local vendors, one of the most unique ways this ambitious new coffee company is distinguishing themselves is via their baking program. Their core belief is that good coffee should come with good food. We asked their head baker, Anna Joe Pedersen specifically about what inspires her and where her passion is grounded. She said, "It's really all about connecting with the traditions of baking. Using the same ingredients that generations have used in the past, is like paying the ultimate homage to a human tradition, and reconnecting us with what fresh, delicious baked goods should taste like."
You won't find Pedersen cutting corners in her kitchen. In fact, Storyville is one of the few places in Seattle that is making their own laminated puff pastry! It's a task that most cafes don't burden themselves with because it's time consuming and difficult to execute well. But when done right, the payoff is a flaky, golden pillow of deliciousness. "I have a love of butter!" joked Pedersen.
Storyville opened their second shop in the Queen Anne neighborhood of Seattle. And their third shop at Madison St. and 1st Ave. in downtown Seattle.
To learn more, visit:www.storyville.com. Or stop into one of their delicious cafes.