The best things to do at Pike Place Market this Winter
Pike Place Market is full of wonders. This nine-acre historic district is the longest continually run Farmers Market in the United States. With its 6 distinct levels and spanning about thirteen buildings, it's almost impossible to see everything there is in the market in just one trip. Our advice? Start early and skip the crowds! While there are no set hours for the Pike Place Market, most activities start at 9am and ends by 6pm. To help you navigate all the sights and sounds of the Pike Place Market, here is twenty-five things you can do to really get the vibe of Pike Place. Have fun!
1. Offer a tribute to the Gum Wall
Touch it if you dare. 
Known as the Second Germiest Destination in the World, The Gum Wall is a must-see attraction for those visiting Pike Place Market. The alley way of Lower Post Alley is covered with gum, but the original wall were the ones on both sides to the entrance of Unexpected Productions Market Theater. Make sure to add your gum there, and be part of the (sticky) history!
2. Feed Rachel the Pig
Rachel raises $9,000 to $15,000 per year for the Market Foundation.
Walk to the corner of Pike Place and Pike Street and meet Rachel, a 550-pound piggy bank. She is modeled after the real-life Rachel the Pig, 1977 Whidbey Island Pig Pageant Queen winner. She raises money for the Pike Place Market Foundation, which serves the Downtown Food Bank, Pike Market Medical Clinic, the Pike Place Childcare Center and the Market Senior Center. Rachel loves back rubs and pictures, so don't be shy and say hi!
3. See the world's largest collection of giant shoes. 
Robert Waldow was measured to be 8 ft. 11 in. tall.
Walk down to the fourth level of the Pike Place Market, and in the middle of the hallway you will find the Giant Shoe Museum, which shares space with the Old Seattle Paperworks store. The wall has signage and artwork that reminds us of a circus sideshow. Visitors can drop a few quarters into small coin boxes, which will open up curtains and show off impressive shoes through viewing slots. A pair even once belonged to Robert Waldow, the world's tallest man.
4. Visit Golden Age Collectibles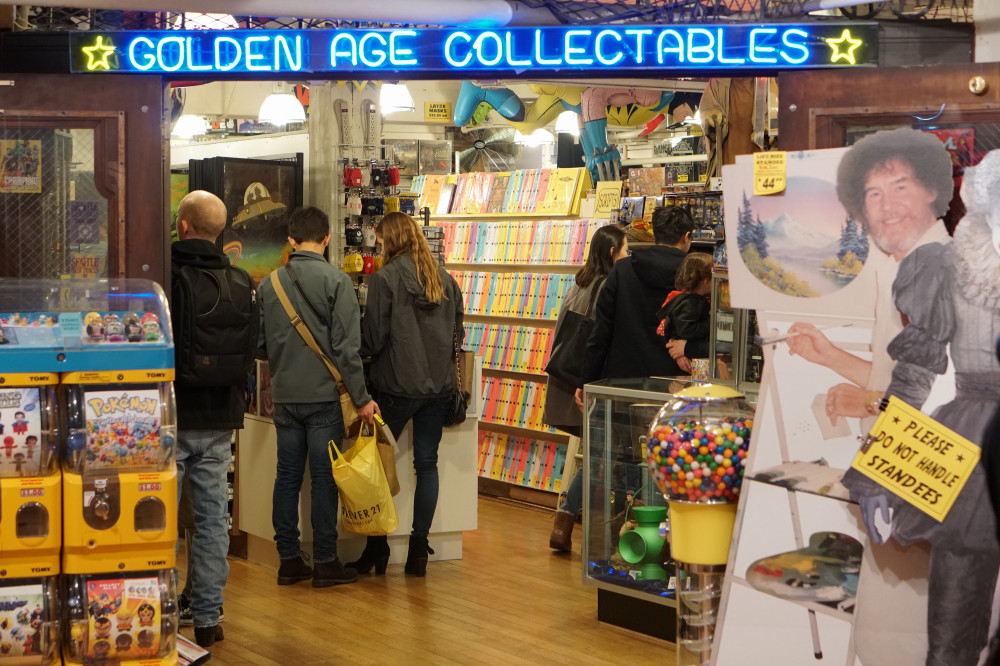 Golden Age Collectables is located on the 4th level, in the Down Under of the Main Arcade.
Find the largest collection of comic books on the West Coast. Full of comics new and old, Golden Age Collectables is a pop culture fan's dreamland. There are comic books and collectibles galore, including life-size cardboard cutouts of your favorite movie characters. Who doesn't want a picture with Bob Ross?
5. Eat your way through history on a Savor Seattle Food Tour of Pike Place Market
Just remember, "Follow the Pink Umbrella"!
Pike Place Market is a 110 year old Farmers Market, meaning the food is always going to be some of the best in the city. Savor Seattle's Signature Food Tour of Pike Place Market offers 2 hours of entertainment as guest eat delicious bites, all while learning about the rich history and culture of the Market. There is a reason why TripAdvisor named Savor Seattle #1 Food Tour in Seattle!
6. Have a drink at Rachel's Ginger Beer
Stay warm and cozy at Rachel's Ginger Beer.
Rachel's Ginger Beer is a Seattle favorite, and often is found as the preferred Ginger beer of choice for local bartenders to use in cocktails such as Moscow Mules. The shop in Pike Place Market is easily found on the corner of Post Alley and Pine Street, right across from Sur La Table. The space has plenty of room with bar stools and tables and is the perfect place to get comfortable, especially if the weather is not its best. Try Blood Orange Hot Toddy – Blood Orange Ginger Beer, whisky and spices served hot.
7. Eat Chocolate covered Cherries at Chukar Cherries
Their are over 16 different items to try at this stall.
CHOCOLATE. COVERED. CHERRIES. Need I really say more? Find this high stall under the Main Arcade. It can be crowded in the area near their stall, but be persistent and don't be afraid to ask for a sample. The staff here loves their products, are very knowledgeable and love sharing their story on how they got started. Every chocolate lover needs to visit Chukar Cherries!
8. Watch a fish fly at Pike Place Fish (or catch one as a VIP). 
The Pike Place Fish Guys. Photo Credit: Pike Place Fish Co.
The first thing everyone wants to do at Pike Place Market is to see the fish fly at the Pike Place Fish Co. These men throw whole fish back and forth from the display to the counter, to makes sales move more efficient. Typically, they only throw fish when someone makes an order. However, they do have a "test-throw" fish that they use to appease tourist who just want to see them throwing one. Want to catch one yourself, you may just get a chance on the Early Access Tour of Pike Place Market 
9. Visit the first Sur La Table
The Original Sur La Table store.
Did you know the first Sur La Table started in Pike Place Market? The store front in located on Pine St. between First Ave. and Pike Place, and is a must stop shop for home cooks. Inside, you'll find shelves from floor to roof with pots, pans and all kinds of kitchen gadgets, some you might not even knew existed! Locals who go there often say how hard it is to walk in without getting something new and shiny!
10. Stand in line and eat piroshki at Piroshky Piroshky!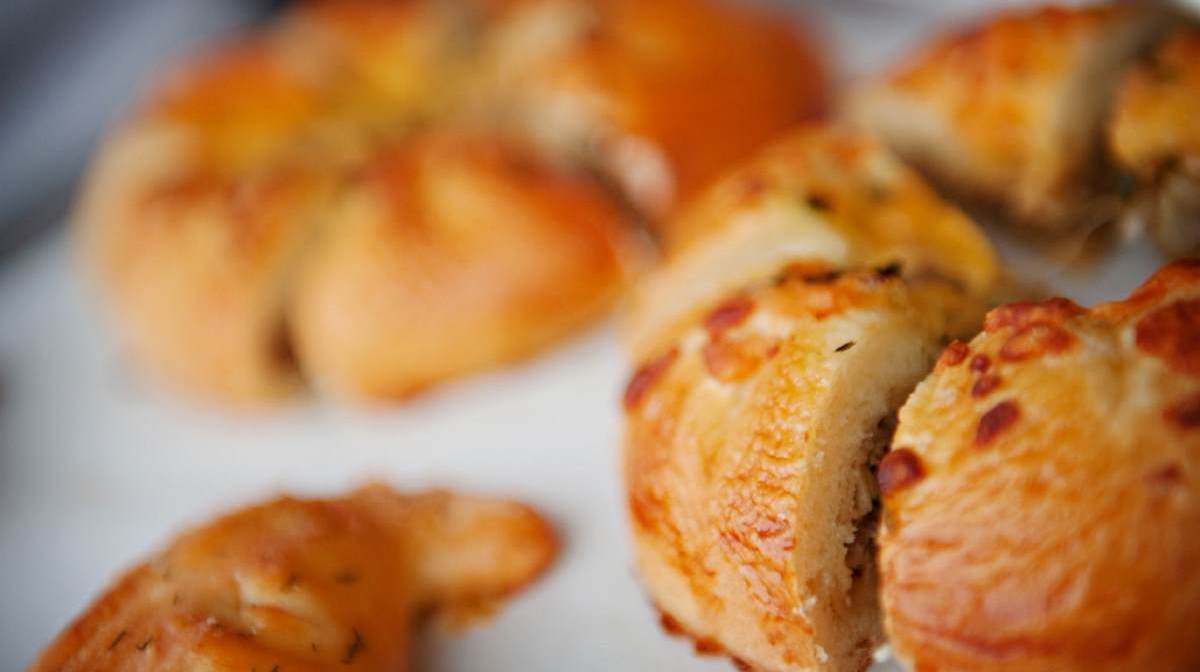 There are a ton of options at Piroshky Piroshky.
At Piroshky Piroshky, choose from a variety of sweet and savory fillings in one of their wrapped pastries. It is a favorite stop for visitors in Pike Place Market, and usually long lines wraps along the side walk and/or on the street depending on the weather. You'll know you've made the right decision as you get closer to the entrance – the vent to the bakery is above the sidewalk window; the wonderful smells of freshly baked Piroshky draw hungry patrons in.
11. Meet local makers along the North Arcade
Check out this cool video about the crafts vendors, produced by the Pike Place Market.
Every morning around 9am, Market vendors meet to check in and get assigned stalls for the day at the entrance to the North Arcade, on the north end of Pike Place and just across the street from the Original Starbucks. Take in the experience of what it is like to be a market vendor, then go visit these same talented makers as soon as they are ready for business.
12. Watch the sunset at the new Pike Place Market Front. 
One of the best views of Elliot Bay can be seen here.
Newly opened in June 2017, the Market Front is a 330,000 sq. ft. facility with picturesque views of Elliot Bay and West Seattle. Located on Western Ave., you can easily cross over the new section of the Market by bridge, the entrance being at the cross section of Stewart Street and Pike Place. Vendors and artisans set up along the bridge, making the transition from building to building seamless and part of one larger whole. On a clear day one can even see the Olympic Mountain Range and even Mt. Rainier!
13. Be entertained by the Market Buskers
Kat, is one of the many talented buskers at Pike Place Market.
Musicians, magicians, living statues – you name it – we have it at Pike Place Market. Along the roads and sidewalks of Pike Place, you might find red musical notes painted on the ground. This, called a "Pitch," is where a busker can perform their acts. Buskers rotate each hour, meaning there is always someone new to entertain you at any given spot!
14. Learn a magic trick at the Market Magic Shop.

The Entrance to the Pike Place Magic Shop.
Sitting directly across the Giant Shoe Museum, the Market Magic Shop has been a visitor favorite for years. Here one can find simple tricks like gum that zaps you when you pull it, to books on some of the finest magicians known to the world. The folks running the store are very knowledgeable as well, and most are always happy to show a curious guest a thing or two. Be prepared to be blown away!
15. Pop tags and find treasure in the Rummage Hall.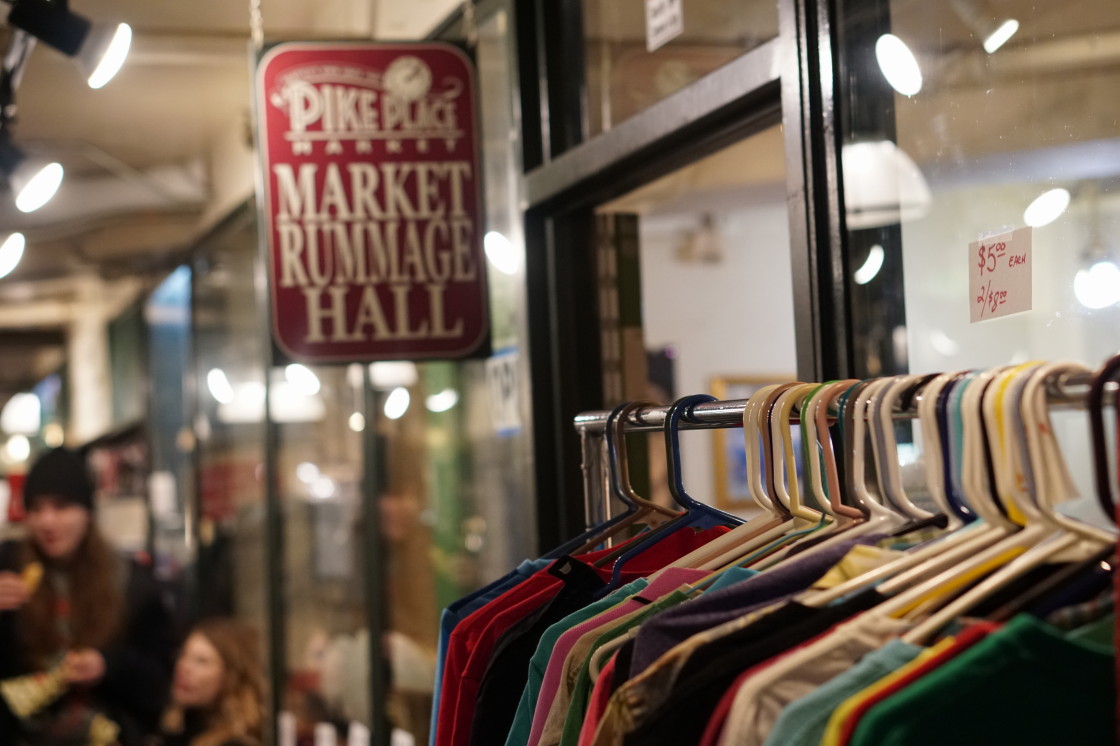 Always something new (and vintage) at the Market Rummage Hall.
Tucked away in the Stewart Building you will find a small shop labeled the Rummage Hall. This is the ULTIMATE thrift shop – find clothes, books, antiques, even furniture – all at reasonable prices. The items are turned over each week, so there is always new things on display any day of the week.
16. See a show at Unexpected Productions
The entrance to the theater is located right next to the original Gum Wall. Photo Credit: Yelp
Walk down to Lower Post Alley, and one might find not only the Gum Wall, but also a comedy hot spot for those Looking to laugh. Unexpected Productions Market Theater in an improv comedy theater, with ten shows a week Wednesday through Thursday. Ticket prices range from $5-$15, meaning you don't need to spend much to have a great time. Comedy lovers flock to their weekend show, Seattle Theatresports, which is a short-form improv show, and the longest running show in Seattle (over thirty years strong!).
17. Eat mini cheesecakes at The Confectional
Quadruple Chocolate, Triple Berry, and Caramel Cheesecakes from The Confectional.
Those fixing for a sweet treat, look no further than The Confectional, a small storefront located just off the corner of Pine Street & Pike Place. Here, they bake fresh cheesecakes daily, varying in size and flavor. Our favorite is the Uber Dip – a mini cheesecake on a stick that is then dipped in milk chocolate.
18. Smell spices and drink tea at MarketSpice
Make sure to try a sample of the Signature Orange-Cinnamon Tea.
MarketSpice is a store that is often overlooked by market visitors, but an oasis for home cooks and chefs. Located right next door the Don & Jo's Meat and Pike Place Fish Co., this store is actually one of the longest operating businesses in Pike Place Market. They specialize in tea and spices, which the buy directly for the point of origin in small batches, ensuring quality for those shopping to by the best spices available. The walls are lined with jars and container of various tea and spic blends, and the smells are amazing.
19. Find the "Seattle-lights" of Pike Place Market
Can you find them all?
Located along the Pike Place Hill Climb – a giant two-part staircase that connects Pike Place to the Alaskan Way waterfront – you might find something odd hanging from the walls. The silver "Seattle-lights" hold lanterns and light bulbs in their hands, lighting the path up and down the staircase. Each man has a different look and pose, making each one very unique.
20. Be inspired by Eighth Generation
Watch this video to learn more about Eighth Generation. VC: Youtube
This shop is located at the bottom level of the Market atrium, and is run by artist, educator and public speaker Louie Gong. Eighth Generation is by far one of the coolest shops in the market, and a hidden gem due to its tucked away location. Rather than a gallery displaying Native American artworks, Eighth Generation celebrates Native artists today by designing Indigenous arts on contemporary products. Items like custom designed shoes, sun glasses, even wool blanket are made by "Inspired Natives," rather than Native inspired. Make sure to pay a visit when you visit Pike Place Market, and in the mean time check out the Eighth Generation blog!
21. Kick it old school at Shug's Soda Fountain & Ice Cream
The interior of Shug's is beautifully designed.
Shug's Soda Fountain & Ice Cream is a cute little shop along First Ave in Pike Place Market. Step inside and be transported to an old school ice cream shop, with many ice cream and sorbet flavors made in house. They also serve old school sodas as well, using phosphates which give their sodas a sparkling flavor. This spot is also perfect for dessert on a date. We love the Prosecco Float, which is made of Italian bubbles and a choice of sorbet.
22. Drink Coffee at Storyville Coffee
One of the best places to grab a cup of coffee in Pike Place Market. Video Credit: Storyville Coffee
If you are looking for a place to stay warm and cozy, look no further than Storyville Coffee. Located on the second level of the Corner Market Building, the space has plenty of couches and chairs to relax and enjoy a cup (or coffee pot) of coffee. Large windows offer a perfect view to the bustling market below and a picturesque perspective on the famous Farmers Market neon sign and clock. Get here early, the space tends to fill up quick due it its popularity.
23. Learn where chocolate comes from at Indi Chocolate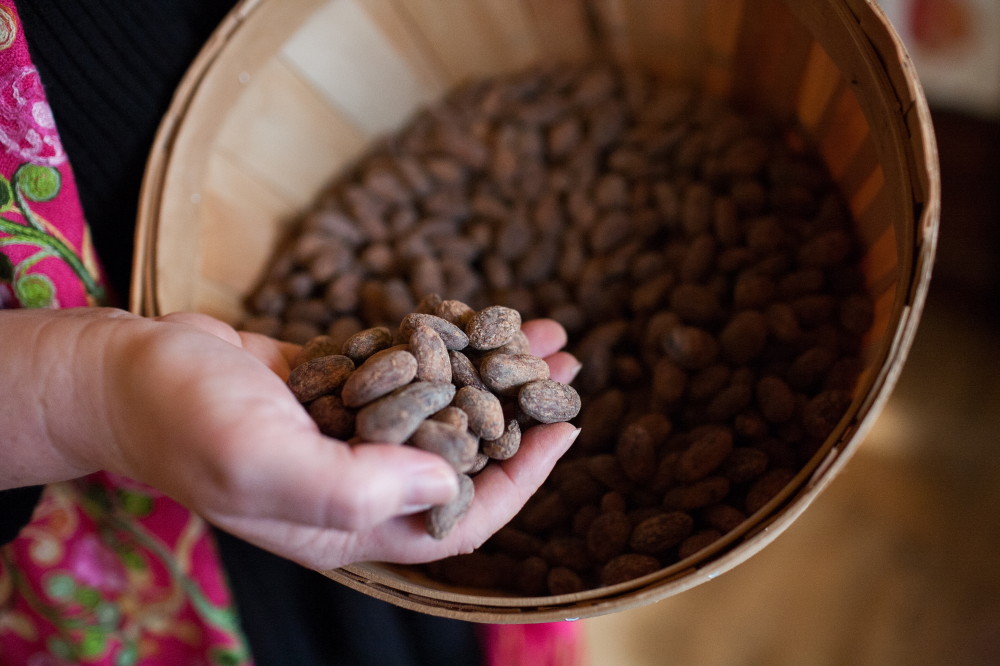 Roasted Cacao beans are full of anti-oxidants and vitamins. 
Indi Chocolate is the only chocolate factory in Pike Place Market. They also work directly with cacao farmers in countries all around the world to source and create their wonderful 72% dark chocolate. You can find this incredible factory and café in the bottom level of the Pike Place Market Front, sharing the same space as Honest Biscuits and Old Stove Brewing.
24. Grab a Pint at Pike Brewing Company
Wash it all down with a cold pint of the Pike Place Ale.  Photo Credit: Pike Brewing Co.
The Pike Brewing Co. is directly next to the Pike Place Market and is between 1st Ave and Post Alley. The brewery itself is three stories, and the pub is massive, with plenty of space for groups large or small. This was one of the first few breweries to be created in Seattle, and is still today 100% independently own and operated. We love the Pike Kilt Lifter, a Scottish Red Ale!
25. Grab a slice of fresh fruit from Frank's Quality Produce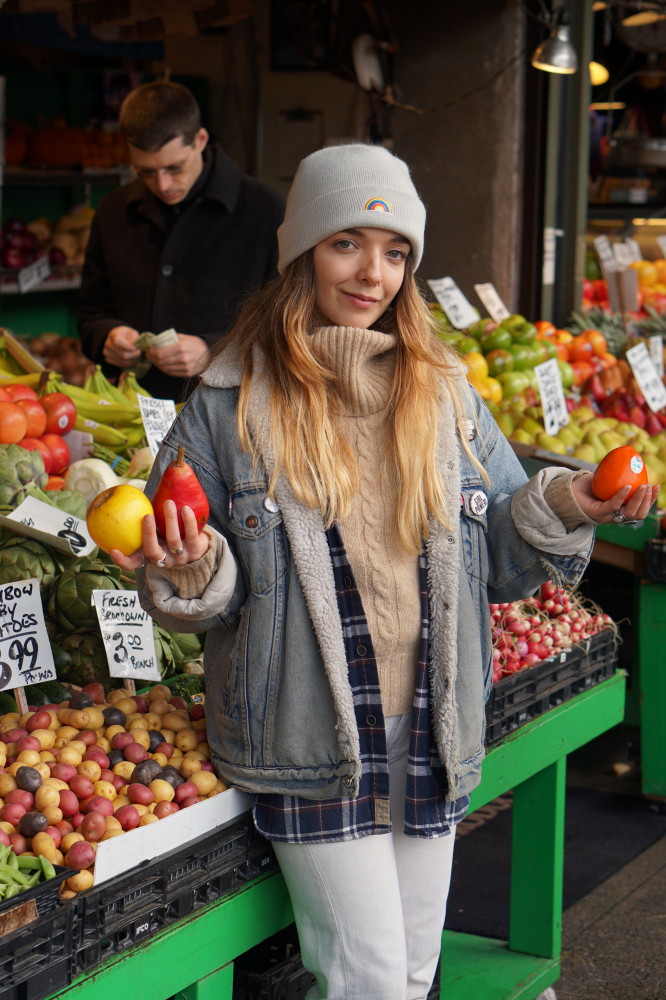 The staff at Frank's Quality Produce are always friendly and knowledgeable.
There are tons of produce stands in Pike Place Market, but we love the folks at Frank's Quality Produce. The Genzale family has run this stall for four generations, and much of their produce is grown locally. Visitors are encouraged to ask questions about produce, and can even get a sample of popular fruits such as Opal Apples and Taylor Gold Pears.